OH MY GOSH. I've been so damn busy lately, I've kind of been neglecting my journal. But I swear off season blogging is kind of boring since changes tend to take time to materialize and the normal freak out of dieting isn't there.
The other day I email Kimbo some photos to get his POV on how things are progressing and what I need to do next. I also let him know how I was feeling as far as nerves is concerned and wondering if I'll measure up to what the unknown standard is at this point. You know, I'm not working with Kim directly in my off season. I'm doing my own diet and my own training (by choice I told him I wanted to do it myself because I could easily handle that) but he's kind of overseeing my progress and telling me what needs to be done physically to keep me moving along in the direction of the way things need to be to bring up my lagging parts. And I am so thankful for him agreeing to still work with me in that capacity because I swear having another set of eyes that are personally removed from you is really important. Here's what he wrote to me that really helped me to keep my head in the game:
Quote:
Hey Kimbo, still plugging away over here. I was around 155 this
morning when I woke up. Which is somewhere along the lines of where I
was aiming for with my off season. I switched up focus to really
bring up my arms and shoulders, fill out the legs etc as you suggested.

Still having some anxiety about this season. I'm playing with this
crazy fine line of feeling huge (I've never been this muscular before,
even though I really like it and feel so empowered and challenged by
the work), and then feeling like I'll be too small to be competitive.
Thank God I can just take off my head and just let you make the
decisions lol. I'd drive myself bat shit crazy by now.

Anyways, let me know your thoughts on how things are coming along and
what else I need to really focus on. I'm planning on hopping on board
with you come March so we can prep for *********** (I omitted this cause I'm not telling y'all what my first show is quite yet).

Rox.
His reply:
Quote:
Looking better girl!!! Lean muscle is coming up and your conditioning is in a very safe place 
 Keep working on those legs and Roxie, the bottom line about competing is that you do it out of the passion to be your best. Placings will always be all over the place, but now one can take away how good you look and what you bring to that stage 
)

Kimbo
And that's it right there. That's what this game is all about. Somehow in my quest for physical perfection I lose sight of that. And it's dually important to have someone knock you back to reality so you can focus on the task ahead.
So with that in mind, I'm plugging away. My split changed a bit starting this week:
Mon – Chest/Back
Tues – Shoulders (Power and Oly lifts)/Bi's/Tri's
Wed – Legs (Compound motions mostly and power)
Thurs – Shoulders (Strength focus)/Calves
Fri – Bi's/Tri's
Sat – Legs (Strength and Isolated work)
Sun – Off
So I'm taking away a rest day. I'll do this split for about 4 weeks or so before doing a deloading/rest week. Still no cardio. 
 My endurance now kinda sucks, but it's all good, I'll get it back.
Here's a recent pic I shared on my Facebook of the improvements in my X Frame.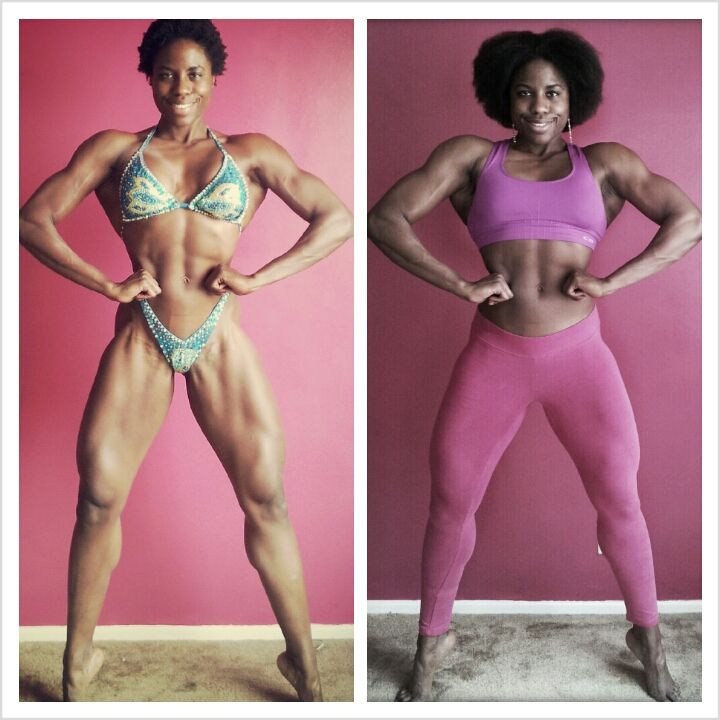 One other thing as of late that I've been working on is having an actual social life. It's become really irritating for me over the last few weeks that I spend a lot of time working and training and having less down time. And it's not because I can't MAKE the time, I can. I just don't. A lot of my close friends are all in NYC. My best friend lives out here, but he's busy too, and he's a guy. Sometimes you want to chill with the girls and do girl things. So I decided to CREATE my own social circle and get out and meet others. I've been a member of a site called MeetUp.com for about 2-3 years. It's a site where people create various social groups on all sorts of topics, and the group leader will host events all over the city. You RSVP that you're going to come, some are free events, some not, but they're always fun and always great for making new friends. So I joined a few. Some for singles, some for just women to meet other women as friends, some for business and networking. And I RSVP'd for a number of events. So I'm really excited to hang out and just have fun with some others and have a good time that has NOTHING to do with fitness. I'm learning everyday what true BALANCE is. It's not normal to be consumed with this quest we're on. It will drive you fucking crazy. So I'm kind of releasing myself from the hamster wheel so I can find the joy in all of this once again. Not that I lost it, but sometimes it's overwhelming you know. So, time to focus on other things so I can refocus on the plan at hand when it's time to do just that.
Stay Connected! Join My Email List.
If you're enjoying the content I'm sharing with you here, then why don't you get yourself signed up on email list. Each week, I'll share with you my best tips and advice on how you can transform you body - and your entire life - through a SMARTER approach to your training and nutrition. All Science/NO BS.