Hey guys thanks so much for your responses and support. Really it means A LOT!
I think I start every post with ERMAHGERD!!! I'm so BUSY!!!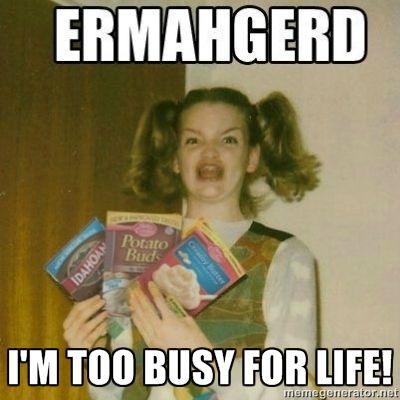 For me, busy is a good thing. Because when my perfectionist workaholic brain is NOT busy I sulk around with a woe is me disposition towards life and find ways to grind and hustle until things are at the sufficient level of mega stress and time deadlines that makes my life so very complete. 
I must say though the fruits of my passion and labor are really paying off. I have a group of amazing women that I now work with. My company covers 3 (going on 4) countries. If you told me on day one that I started all of this that things would have evolved in the way it has, I would have been like "Well you don't say!". And I'm excited to see where things continue to head over the next year or so. I came to LA with one dream and goal in mind, I got to a point where I was actually at a loss with my training career having been fed up with being employed and working for a box gym. I was ready to retire from performing. I knew I wanted to continue to train and guide people in fitness, a passion and PRIVILEGE of mine since the age of 18. But I knew my only way to true success would be to go out on my own. And I did. I took a leap of faith, and founded RoxStar Fitness. I did it without any loans, did it all on my own merit. I said to the Universe, ok this is what I want. I'm going to fall head first and if I fail, I'll simply get back up and figure out a better way of making my goals a reality. And I've fallen many times, but each time got up stronger and better. And now here I am with a new evolution of my company. I'm so proud of what I've built. And things are getting better. I'm actually in the process of automating and evolving how I communicate with clients as far as getting programs out to them, updating diets, getting their bi-weekly feedback, having them view progress photos and charts/graphs of composition changes all online through a private communication server. I'm looking to hire a programmer to design the thing from the ground up specifically for my business. Along with this I want to create a mobile app that connects to this program so clients can update and retrieve all of this info on the go. It shall be EPIC!
In addition to all of that, I've got a number of girls going up with shows over the next few weeks. Two of which are coming up next week. I'll be flying up to Sacramento to assist them at the show, and that's something that I'm really going to try to do with as many clients as I realistically can if the kinks can be worked out. Working with Kim has really evolved me as a coach myself because it was with him that I learned and experienced what real COACHING is. It's different when you hire someone who is only focused on your diet and/or training. When you have someone who is assisting with the full package, and with someone who is constantly at shows, who tries to be at your show if feasible, I feel it takes the work you do to a whole nother level. So now, I go to shows out here ALL THE TIME. I missed the Muscle Contest show because I wasn't feeling well. Just started my period and I was basically in bed all day. But I did go to the Gold Coast last month, and will be at the Grand Prix next month, Governer's Cup next week. My involvement in this sport has really taken a huge upswing and I actually can say I really love it. Even all the craziness. And from a coaching aspect, I think that's SO important. You must be a participant (at some point), a spectator, and a true fan.
Anyway, so a few weeks ago I introduced you guys to one of my girls who's competing next week. Here she is at 2 weeks out: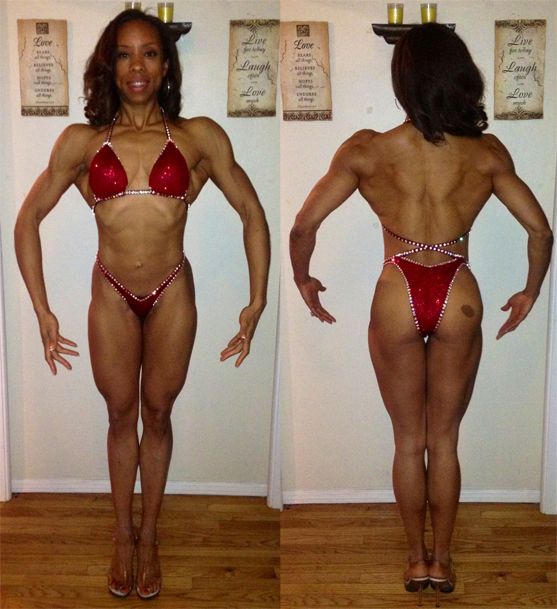 This was taken about 2 days after a huge free refeed. I just told her to eat a crap load of clean carbs (and she also had sushi) for 8 hours and don't worry about counting anything. This week though we're running another big carb up, but this time I control what she's eating and how much of it. I kind of call it pre-peaking where I like to just run a carb up set up well in advance of peak week so I know how the specific client's body will react to various amounts of carbs, and how long essentially it will take for their bodies to clear excess water. Fill and spill, and then watch the mirror. I really like to keep things simple, but in my analytical Virgo brain, I must keep everything as predictable as possible. She refeeds tomorrow, I have her on about 300g of carbs, should be perfect because she's nice and lean/hard/depleted right now.
Here's another group of pics of her right after that refeed, and a comparison from start to again about 2.5-3 weeks out in these pics. The bottom photos are 5 weeks apart.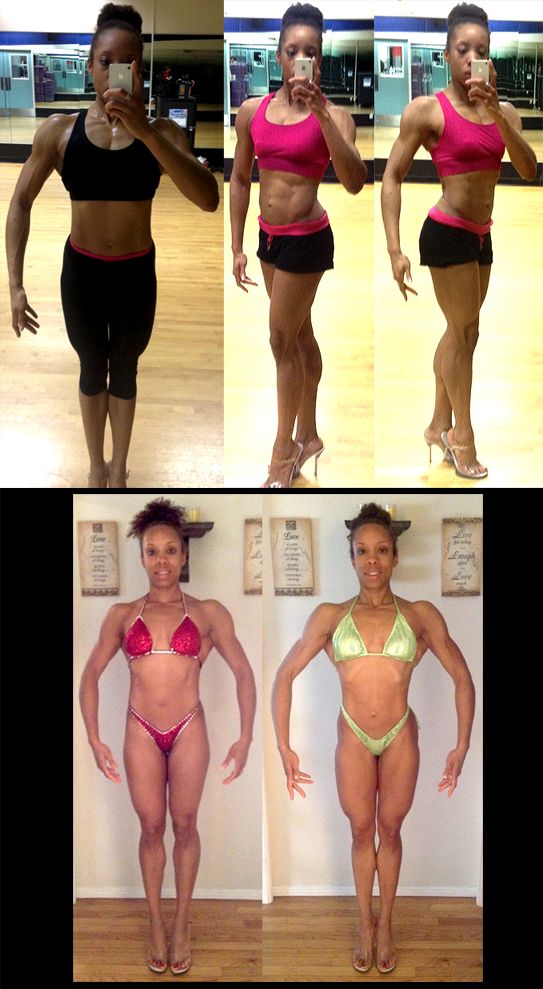 I've spent a lot of time with her on Skype working on her posing, giving suit advice (that green one is the one she's wearing but it's unstoned here). Hair/make-up/etc. She's going to look INCREDIBLE on show day. I'm excited for her.
My other girl Nichele, I have her refeeding this week. Her body was a little more of a challenge. She has the TINIEST waist you'll ever see. WIDE back, a PERFECT V. But generally she's just a softer type of girl. Like a Nicole Wilkins. So I need to diet her, give her a little more cardio, and just really watch her body to get her legs to come in. She's looks amazing I'm really happy with how far she's come. And I think by the end of this week we'll really have things even more where they need to be. Her body is similar to mine in that the final peak with water manipulation is going to be a big difference. Here she is at 3 weeks out: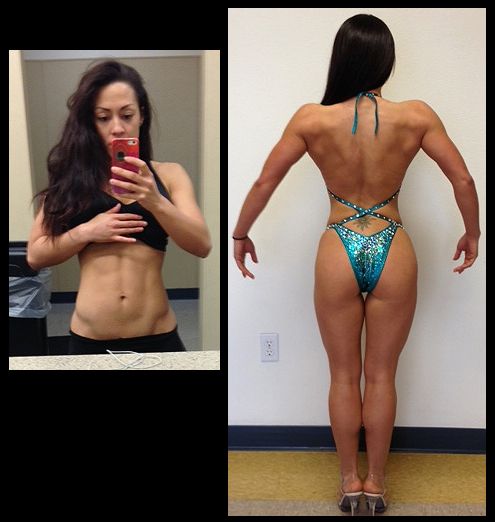 And here she is at two weeks out (taken about 5 days ago). She's going to kill me for posting a pic with her eyes closed, but that's what she gave me lol.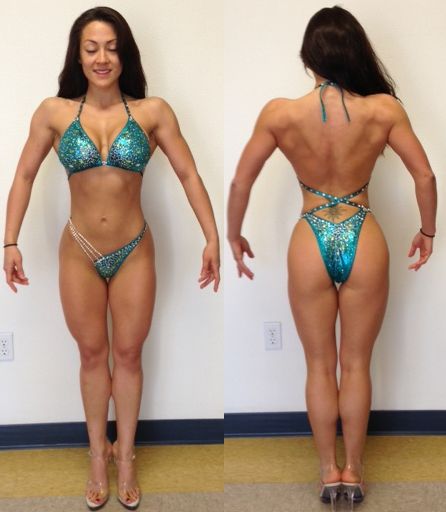 I think she's going to look beautiful up there. We still have time to really get things in, so I'm working in the 11th hour.
Man I make this all sound so dramatic.
And then there's me.
So I've been sorta lax on the diet as of late. On plan but not. In a way that I eat generally what's on my diet, but not measuring. Training has been spot on though, and things have really been moving along. Now starting this week, at 14 weeks out, I made the DECISION to finally buckle down and get my shit together. So I'm on my plan, I pre cooked my food, I'm measuring and eating on schedule and making no excuses. I've decided to keep variety at a minimum, because I find when I do that, I generally stick to my plan to the T. The option of course is there, I can use my food database calculator whenever I wish, but for the most part, I'm keeping it simple this time around and just really focusing on the task at hand instead of mind masturbation through food.
As of this morning I'm 155.4. Down a good 3.6lbs or so. I'm really REALLY trying to watch the scale in that I do NOT want to drop too fast. I start this prep pretty lean already. I had a great time off, put some good size on, kept fat under control, and all of this so prep can be smooth sailing. Last year at the start of prep I was 145lbs. I am clearly THIRTEEN SCALE WEIGHT POUNDS over that. I say scale weight because I have no idea what was water/fat/muscle/gas bubbles/food particles lol (you get the point) at any weight since I don't really track body fat at all. But I can say that I feel leaner and more muscular from the start of one prep to the next. I start with Kimbo in about two weeks, I'm ready for him. I'm going to talk to him about some things I may want to try for this prep training wise. Like keeping my cardio to more intervals/HIIT and short duration SS mod/high intensity cardio. That's what really brings me in. And if I can keep my current training split. Here's to hoping he doesn't release a wrath on me for making suggestions. Honestly I'm kinda scared!!!! lol I'll post up some pics later this week as I'm going to let my period pass before shooting him my final update before linking up with him.
Oh and while I was typing, Nichele sent me some updated pics. BOOM, progress between these and the photos above. That last pose, I taught her that.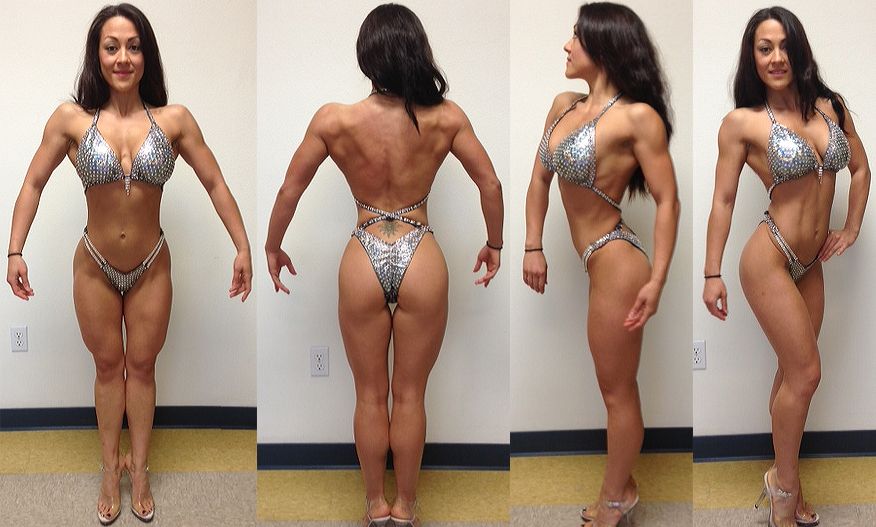 Damn I LOVE my job! 
Stay Connected! Join My Email List.
If you're enjoying the content I'm sharing with you here, then why don't you get yourself signed up on email list. Each week, I'll share with you my best tips and advice on how you can transform you body - and your entire life - through a SMARTER approach to your training and nutrition. All Science/NO BS.