Man this is really going to be a crazy week for me! And exciting one that I'm really anxious to kick off. Team RoxStar's season officially will be off to a nice bang with Nichele and Cassandra hitting up the Governor's Cup! I'll be heading up to Sacramento on Friday morning, and I'll be meeting with both of them (for the first time in person since Nov) to work on last looks, posing, and just checking out conditioning etc, making adjustments if needed. I already ran a mock peak on both girls last week, it went amazingly well, so we'll follow through with the same thing this week. I mean really, I keep it basic, a little depletion, a refeed, taper carbs a tiny bit after the refeed, water high all week, taper 24 hours before the show, still drinking on Saturday, no diuretics, taper training, and BOOM! Showtime. Of course everything is tweaked for the individual girl, but that's the jist.
They're feeling really confident. They both worked so hard. Both had little moments of doubt at one point or another, but as soon as I see that devil peeking its tiny head out, I go in and give them the classic:
Actually my new thing is to send that video via email when ever I hear the meltdown coming on, and then give my two cents! Works like a charm.
Cassandra put together this awesome video diary this week talking about her journey to the stage. She had some drama, her son had to go to the ICU! In fact I remember that day specifically because we were having a posing session online on Skype and her sister said there was something wrong with him, like he woke up and wasn't looking too hot. We were finishing up anyways, so I let her go and got the email that she was at the hospital. But even through that, and some other stuff, she stayed on top of her game and never backed down. 
Nichele had a photo shoot today. Silly girl has a cheat meal on Saturday and then emails me and says "Oh no I forgot I have a shoot in the morning and my stomach is all sticking out. What should I do?". My response – enjoy, relax, drink your water, and go to bed. You'll wake up fuller and looking better anyways. And she did! She sent these to me today, straight from the camera unedited.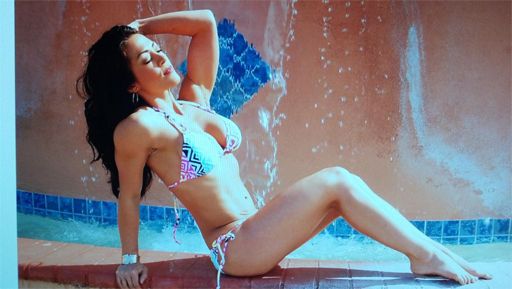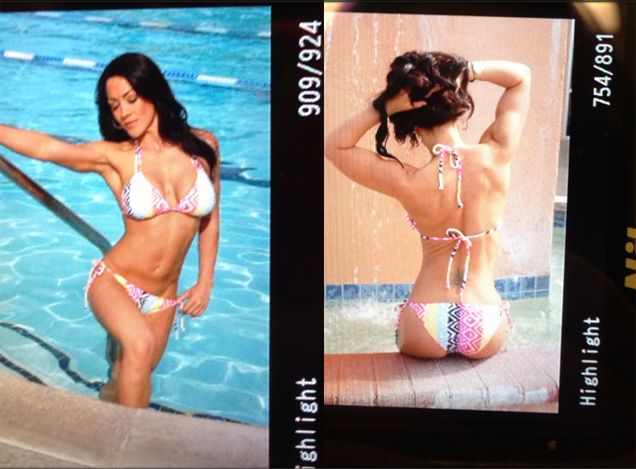 Next week one of my other clients is competing, Masters 45+ up in Vancouver, WA.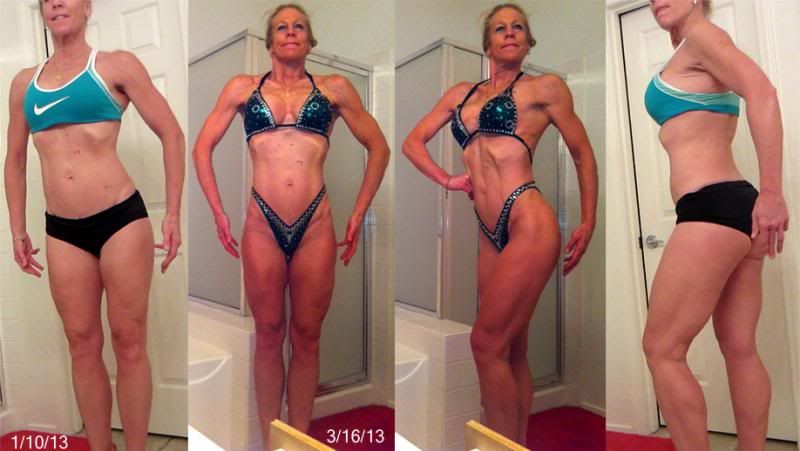 I'm excited to get her up and going as well. I've really been trying to work on her posing with her online. It's much improved from where it was, but we're going to spend more time after this show to really get it going more. Her model pose I LOVE! She came to me with only 9 weeks to prep, she had switched from another coach/team. So I'm pleased that her body responded well because honestly I had to work very carefully with her as they had her on a crazy plan. But it all worked out. These pics were actually taken about 2 days after a big refeed of about almost 300g of carbs.
And the next girl on the docket some of you may actually know….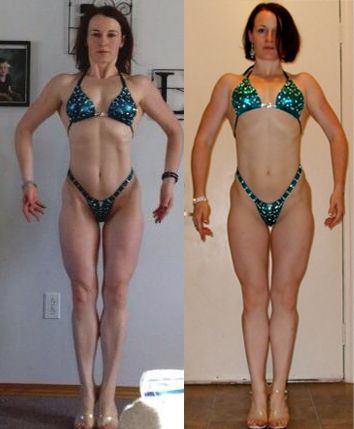 Ms. Kayti. The beautiful thing about these two photos is that the one on the left was taken on Saturday. The one on the right was about 2 years ago a few days out from her show. She's roughly the same weight (even though today she is about 4 weeks out or so), AND her shape has changed AND she's leaner, AND she's eating MORE AND she's doing far less cardio, AND she's getting cheats and refeeds. #BOOM! I'm really excited to get her out there as well, I think she's going to have an amazing showing.
I've got a few other divas I'm currently molding, I'll introduce you guys to them in a few weeks.
In other news, my prep is going well. I mean really it's kind of boring still because I'm like 13 weeks out. I told you guys I emailed Kimbo, he got back to me like right away. He's excited for us to get this season up and poppin. For me, prep is fun. I don't have any of the anxiety I used to have before. I think now because I kind of feel like I've evolved mentally and emotionally as a competitor and just really have a greater understanding of my body and what I need to do. So I can confidently just focus on the work, keep with my diet, allowing free meals where needed, and just grinding it out. I think this will be a good year. No stress. That's what I've already claimed.
In the meantime….
#BeastModeOn
Stay Connected! Join My Email List.
If you're enjoying the content I'm sharing with you here, then why don't you get yourself signed up on email list. Each week, I'll share with you my best tips and advice on how you can transform you body - and your entire life - through a SMARTER approach to your training and nutrition. All Science/NO BS.