Ok just got back in from Sac…..

Nichele – 2nd Place Figure A
Cassandra – 1st Place Figure F

BOOM!

The line up was REALLY damn good so the fact that both these girls stood their own in a pretty large show, in front of Sandy, man I am SOOO proud, they really showed their best showings yet. Both these girls are newbies. This was Nichele's second show ever, Cassandra's third, she did two last year, once was an NPC show the other was an IFPA amateur (whatever their amateur fed is I forgot what it's called). We really made some improvements in presentation and just overall look/conditioning for both. I want to put more size on both girls, but of course that's going to take some time. I'm hoping that they come down and do the California State show in May, and then I will have them hit an off season with the focus on one of the Jr. shows for the National level (one warm up show before that) in 2014. 

Of course this weekend wasn't without drama. Nichele's suit broke the night before, Cassandra's suit never came in the mail (until SATURDAY AFTERNOON – her suit designer is an IDIOT – nobody well known and I will withold her name). So I had to show Nichele how to sew the connectors down to fix it, and then had to bring my suits for Cassandra. When she came on stage in my pink fierceness the audience actually said "WOW"! LOL, that there is my lucky suit apparently! I won two overalls, and 6th at Nationals in that. Now a client class win, sooooo I shall be wearing this baby ALL YEAR! Keep that mojo going lol.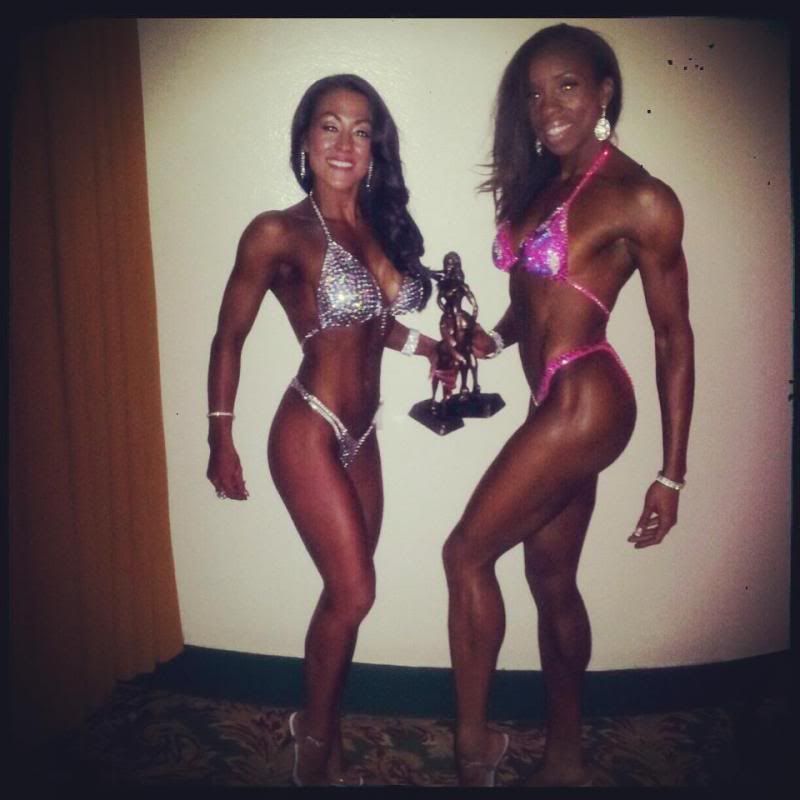 Anyways, it's back to the grind today for me. Got a client competing this weekend, got some others with shows coming up in the next few weeks. So busy busy with that. My computer programmer has started the backend expansion for my business. I'm hiring an administrative assistant once it launches. So much going on!

And then of course there's me. Saw Kimbo up in Sac, gave him a big hug. We start up this week with the master plan. I was looking at my photos over the season last year. I definitely have made some improvements. The flaws that I didn't realize before are glaring out at me now. And I've spent the last few months trying to minimize them and work on those weak parts that held me back last year. My biggest focus right now is just keeping this size as I come down. So far things are going well. I had a lot of people asking me this weekend when I'm going up, and were shocked when I said in June because apparently I look like I'm pretty much nearly show ready lol. 
 I don't TRY to stay lean, at all. My body just grows like a weed and does so very well, lol. I mean I was eating like 2800-3000 cals a day (some days I know I got that high with cheats and stuff), no cardio, like crazy. Anyways. That ish don't matter if I can't keep what I've gained by the time show time gets here.

I'm just ready and pumped, 12 weeks out this Saturday and now go time sets in. I'm really motivated. This year will be mine I'm claiming it, and I have a good feeling, so I'm gonna just keep rollin with that.


Stay Connected! Join My Email List.
If you're enjoying the content I'm sharing with you here, then why don't you get yourself signed up on email list. Each week, I'll share with you my best tips and advice on how you can transform you body - and your entire life - through a SMARTER approach to your training and nutrition. All Science/NO BS.