Wow it's been a whole month since I've been up in here. I've been busy, I've been a little stressed, and lately I've been suffering from bouts of feeling lonely… And that only comes up when I'm PMSing really bad like right.. about… now……
I miss my family and friends back East sometimes. Another part of me has been dealing with this sudden urge to want to settle down. Like as in find a guy, fall in love, and get married settle down…
NEVER IN MY LIFE have I EVER even imagined wanting that life, the picket fence one… But all of a sudden, it's what's always in the back of my mind. I think this must have to do with biological clocks or something. If I ignore it, maybe by the time I'm 40 it will have passed… Wait does my biological clock stop ticking at 40? Uggggh! I'm f–ked!! 
Anyways besides THAT mental mind taffy… Prep is, going. I'm at 8 weeks out now. And honestly I just keep pushing no matter what. Last week I was feeling kind of tired because I was running around dealing with some personal stuff that had to be taken care of and had just been pushing hard diet and training wise. So I had a mini refeed, and I feel like it kind of threw me off my game a bit, albiet I did feel incredibly better the next day (so my body needed it). I also had been subbing things out a lot on my plan. So out went chicken and in came lean beef, or a salmon for lean beef, or shrimp for chicken. I decided this week I needed to get back down to the basics. Get locked back into my groove and keep it simple so I can swing back to 100. I'm actually finding it hard to get all my meals in, that last meal is a thorn in my side. But I'm now really focused on making sure I get it all in. Focus Roxie, FOCUS!
Kim is really pleased with how things are shaping up. He bumped my split so I'm hitting shoulders about 2x a week. Cardio is only 30 mins, I hit it about 5x a week or so (mostly HIIT or Intervals, or mod/high short duration SS after those first two things). Some days I sub in metabolic circuits for a bulk of the cardio workout then finish off with some crazy version of HIIT I create on the spot for 10 mins or so. It's been good actually, and I feel good. I'm going to switch things around starting this Monday where I do my cardio in the AM, and hit my weights in the PM. I feel like the closer I get to the show, the better this kind of split works for me. This way I can just focus on the task at hand. Full effort for my cardio, full effort for my weights. Done and done.
Anyway, this is where I am right now. I was 153.4 in these photos – a few days before my period. My lowest I was 150.4, however I'm LEANER now than I was last week at that lower weight: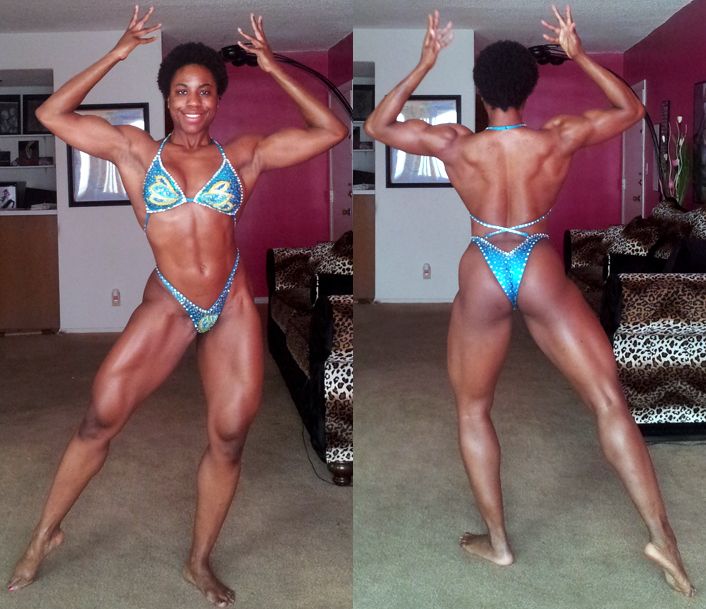 I'm going to have a new suit for this season! Getting one from Tamee Marie. It's purple. 
So now that I've got that squared away, shit just got really real. I'm in this for REAL now, no turning back. I've had the doubts in the back of my mind this prep. Something I'm not used to. I find myself trying to find the motivation to keep things going, to keep pressing forward. A lot of it has to do with the mental/emotional mind taffy I'm dealing with personally with what I touched upon earlier. Some days I feel myself just down, and sad. But I'm committed to training, and it's the only thing that makes me feel empowered. It's my solace. That and my work. So I just dive into training and working with my clients head first, and not let anything get me down. We all go through it. This is life, and how you choose to deal with it is up to you.
Stay Connected! Join My Email List.
If you're enjoying the content I'm sharing with you here, then why don't you get yourself signed up on email list. Each week, I'll share with you my best tips and advice on how you can transform you body - and your entire life - through a SMARTER approach to your training and nutrition. All Science/NO BS.