Ok so things are MOVING quite a bit since my last update… Like 2 days ago.
I am now finally ready to set onto part two of the expansion of my company. The first part was contacting a programmer to create the online client and administrative portal I had spoken of a few posts back. That's underway, and I had the first demo of the working backend (admin end) about 2 and a half weeks/3 weeks ago. On Tuesday, they are showing me the client end, so the project is almost finished! 
 OMG, I'm so excited about this because it's really going to bring things to the forefront as far as the technology I use to get my clients their programs and just the whole communication end. It will make things a little quicker for me, and just be a hub of where they will get their workouts and diet, but will be able to see progress charts of physical changes, comparison photos, and more. It's going to be great.
Part two is hiring an assistant. I thought long and hard about how to make this happen. What I realize is that when people come to work with me, they're coming to work WITH ME. Not some other person, not another trainer, me. So to assign another person to my clients I feel isn't fair. The above portal feature will be give the ability for me to deliver my services faster and easier, but having an assistant on hand will help to make it even smoother. So I can create the plans for my client, and have her input them into the system. So I can be tweaking and adjusting, but I get to save my own time in not having to do the easier task of simply data entry into the created plan template/structure. She'll also filter emails, set up appointments, follow up on my behalf, and manage my social media as well. So I now get to spend even more time actually COACHING and guiding and less of the administrative stuff that someone else who is skilled can easily do.
I put up an ad yesterday for a virtual administrative assistant. Within 24 hours I got 21 VERY qualified (some over 10-20 years of experience) applicants, about 10 of which are EXTREMELY promising and top of my list to interview. 
And all very enthused to work with my company. I'm like so thankful. So I will begin screening them tomorrow, speak with my business mentor about the proper way to interview, questions to ask, and things to consider, and then start interviewing next week. I'm leaving the ad up though throughout the week because I'm sure I'll get others who will apply and I want to keep my net wide open.
Clients are all doing well. Small victories, large victories, and some still trying to find their way. But overall, I'm really proud of the work everyone is putting in. I've got 3 Bikini girls I'm working with at the moment. And it's funny because imagine my big ole muscular 
 in a pair of heels coaching Bikini posing lol. It happens, I've got the Skype videos to prove it. 
 Both girls are beginners. Actually my pixie blond has stepped on stage once. She'll be competing next weekend(May 11th).
4 Weeks Til Showtime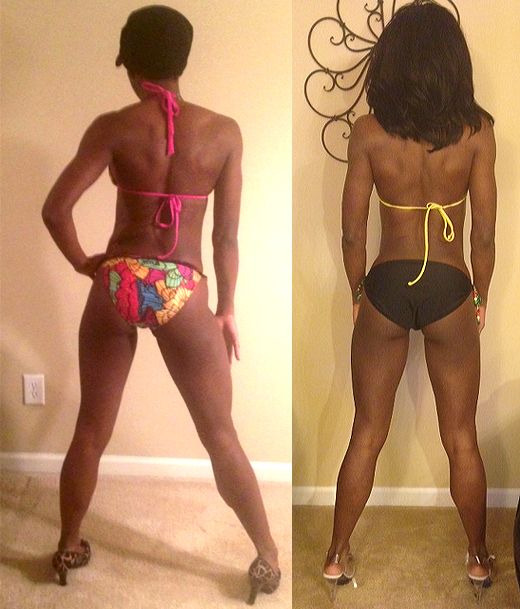 Two Weeks Til Showtime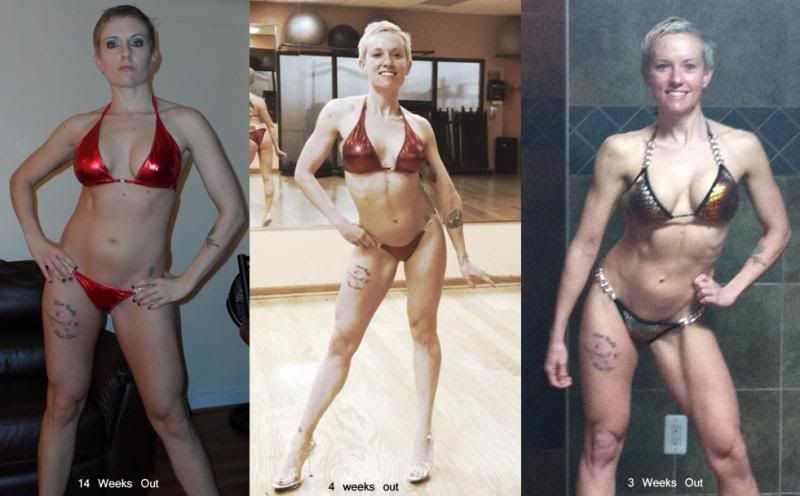 And as for me… Although my uterus is hemorrhaging, I feel like I'm getting SUPER lean! And I look great. I have my check in with Kimbo tomorrow. I'm sure he'll be taking some kind of food away… *prays* LEAVE MY AVOCADO AND STEAK ALOOOOOONEEEEEEE!!!!
Oh and one last thing… I didn't tell you guys about the crush that I have on this guy at my gym who is gorgeous… He's a natural BB, a pro. And he loves him some Roxie. Yesterday I made him kiss my hand. LOL… 
 I give him diet tips because he's dieting all wrong and junk. But anyways…. He's like FOUR YEARS YOUNGER THAN ME. I'm used to being the young one in the equation, but… I think I'm over it, especially when I think of his nekkid body…. Oh sorry, TMI… Le sigh… So what do you think? Is 29 going on 30 too young for me? I'm 33 going on 34. I turn 34 in Aug, he turns 30 in Nov. He seems pretty mature. Has his Masters degree in like Exercise Science or something, starting a business, promoting a show (BB comp), competing himself, and just overall seems like he's really going places in his life. On top of it all he's a gentleman and so smart. OMG, but he goes to MY GYM!! ugh.
Stay Connected! Join My Email List.
If you're enjoying the content I'm sharing with you here, then why don't you get yourself signed up on email list. Each week, I'll share with you my best tips and advice on how you can transform you body - and your entire life - through a SMARTER approach to your training and nutrition. All Science/NO BS.