Today was the accumulation of a long ass week. I didn't even finish my whole workout because by midway into it, I was SPENT. So I went home and fell asleep for a few hours, and now I feel a bit better. I think I may be slightly dehydrated and just need rest. So for the next 48 hrs I will be resting, getting sleep, and drinking plenty of water. Additionally I had to increase my carbs as I see that anything below 180g/day at this point in my training will not allow me to have the energy I need to kick ass in the gym.

The shoot yesterday was pretty long. I got paid and was well fed so can't complain. The food was amazing. I was able to still somewhat stick to my diet. There were plenty of fresh nuts, fruits, etc. Of course there was junk, but I only had 2 chocolate chip cookies, and one small coconut macaroon. And a few small pieces of dark chocolate. For lunch, I had baked garlic sole and a delicious med rare seared Ahi tuna steak. Dinner I skipped because the craft food truck was gone and they ordered a ton of Dominos pizza. When you work on set, particularly for a well funded project, the food will do you in!

The job was a commercial and web viral video for the new game Top Spin 4. They shot me doing Serena's tennis footwork in heels, hold and using the controller, stretching, and standing in a tennis "ready" position where my legs/torso/butt were shot lol. It's going to be pretty hot so can't wait to see it. Plus it will be some great random footage. My first time being a body double.

Here are pics from the set, including images of Serena.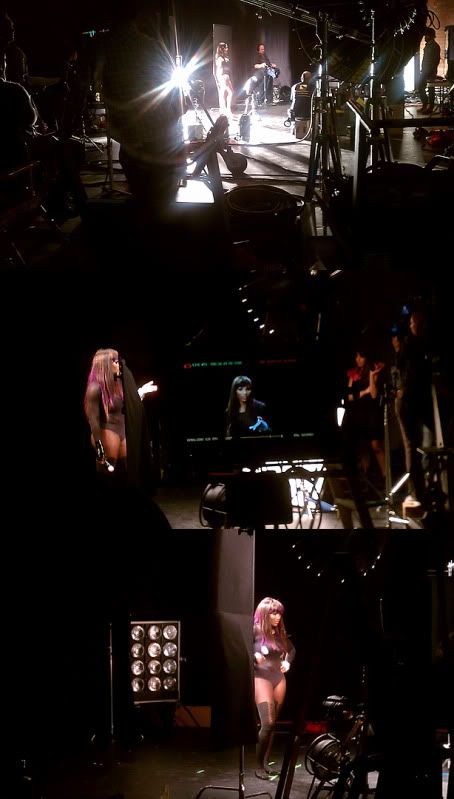 Here I am in the same outfit as her. You can take the girl out of figure, but you can't take figure out of the girl (lol at my model pose lol).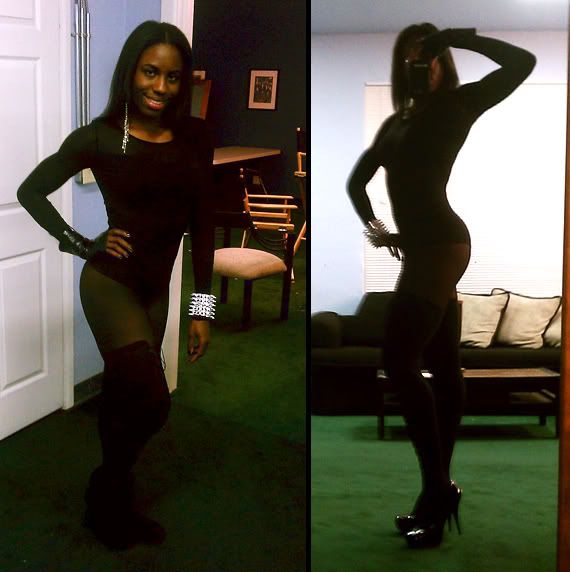 I just LOVE being on set. I love film and tv. And I miss it. I've taken somewhat of a hiatus to pursue competing and my budding fitness empire lol. I think I'm actually going to contact one of the speciality agencies that do specifically parts modeling and start doing some of that stuff. I had been thinking about it lately especially after seeing the GO Daddy superbowl commercial with Joan Rivers. Her body was a 25 yr old body double/parts model based here out of LA. You see ads all the time with just a model's back, or legs, mouth, arms, abs, etc, well those are parts models. Same with tv and film, often body doubles and parts models are used for the specific body parts they specialize in. So I'm going to go for it, I already have some great images to send in. I have some other things in the works as far as building my media consulting/fitness expert aspect of my career and so this would be an interesting addition. 

Anyways back to competing…. Ok so here is the top that I'm still tweaking.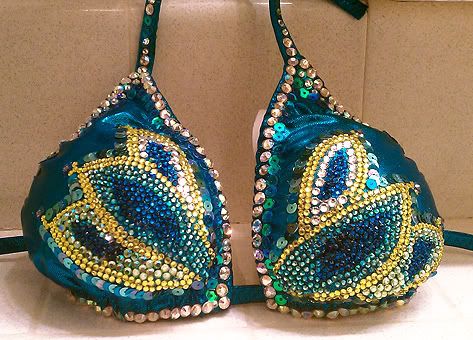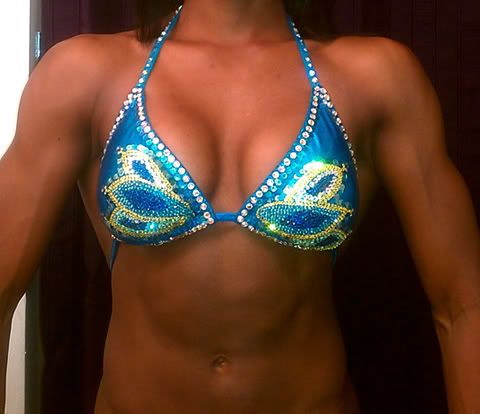 You probably didn't notice it right away but the top yellow feather design is a little uneven. One sits a little higher than the other. I had shown the pic to the stylist yesterday who is also a costume designer and works with stoning etc, and she said she wouldn't have noticed it until I said something. She said I did an awesome job. It looks beautiful in person because it SPARKLES in the light. But being the OCD Virgo that I am, I'm a huge perfectionist. So I'm considering somehow poppin those babies off and redoing one side lol. But that's a crazy idea and that E6000 glue ain't going nowhere. Lol.