400 Meter.
That's the new goal of my life.
To run the 400 in a race, and of course to win lol. I never do anything without that last caveat.
Now before you get excited for me let's start with the reality. I currently SUCK like a DUCK at the 400 meter. My time is an appalling 1:57. 1 minute, 57 seconds… The world record is at 47.60 SECONDS set by Marita Koch in 1985. This is more of a long term goal that will take time, and strategy. For me at least, and present a great mental challenge.
My second goal is for the 100 meter which is much more realistic for me. My body is composed of so much fast twitch fibers that DISTANCE F'ING KILLS ME!! But being fast as a speeding bullet is no problemo. My 100 meter speed is 12 secs, that's without being trained for it with proper technique. That's PRIOR to all of the work with my coach. His name is Danny. So we'll call him Coach Danny from now on, m'kay. Kay! So the world record in the 100 meter dash is set by my childhood IDOL FLO-JO!!! Florence Griffith Joyner.
When I compete, I'm going to wear outfits JUST LIKE THAT! 
 But anyway Danny says she was cheating then (steroids) but it's never been proven, plus she died, so we'll never know. She was training here in Califormia prior to the Olympics, at one of the tracks that I run on. So it's very surreal for me to be walking the same grounds as some of the greats (many trained right here out of Los Angeles).
Flo Jo also set the world record in the 200 meter, which is the other event I actually want to compete in.
So I am humble right now. Very humble; I have a lot of work to do. But I'm accepting the challenge.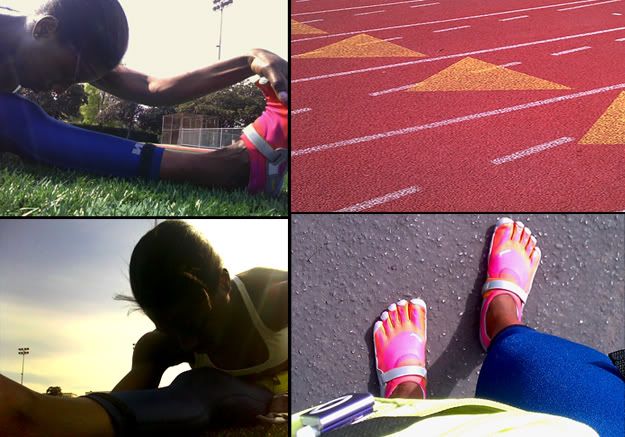 Today I hit the track for an easy run. I did a warm up of 4×400 runs. Took about 2-3 mins rest between each. My time was consistent each run, so I know it's something I need to work on. It will come, the body has no choice but to adapt. I did however get an amazing compliment on my form, which is my main focus for now moreso than time.
After my run on the track, it was time to hit the hills.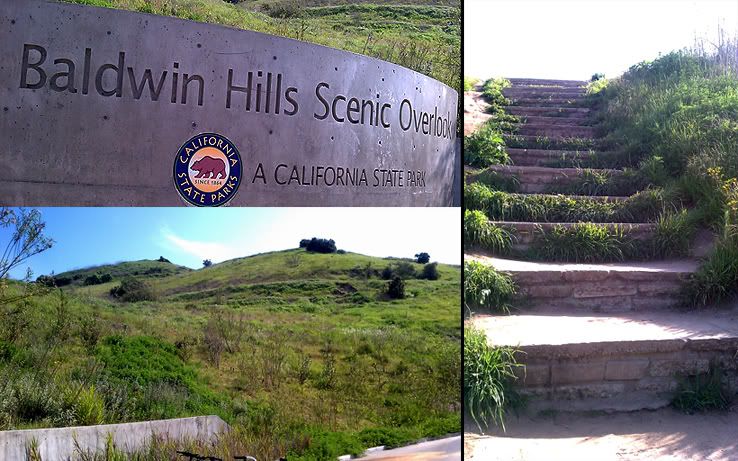 I ran the same hills Coach Danny had myself and another runner do yesterday. I've always passed this hill while driving through Culver City. It's a HUGE HUGE HILL! The top is just at about 400 feet above sea level, and I started at the bottom, made my way to the top, then came back down again. I did a mix of 50-100 meter uphill sprints w/ rest. Then I sprinted those large stairs that you see in the pic. THEY'RE STEEP and they can get up to about 2 feet in height. Not to mention they go along the entire distance of the hill. I only did one segment of them near the top of the hill. Then I finished off with a curved trail uphill sprint of about 100 meters, repeated that 3x before my body screamed STOP PLEASE!!!!! Lactic acid is a real bitch.
I love the view at the top of the hill though, that's so rewarding besides the mental challenge.
Overall, I had a pretty good day. I expected to rest, but I had an urge to do some light running. Tomorrow I will lift. My weight training has changed quite a bit as I mentioned above. My new focus now is really maintaining my upperbody as much as possible. I'm starting to see such crazy development of my lower body (which is naturally more muscularly dense for me anyways) that my upper body needs to be really pushed in the gym to keep my balance overall. My focus is always on my back and shoulders the most and keeping the shape and size of those areas. Here's a bit of the workout I did the other day. The focus here was on my hip flexors (mine are a bit weak so the goal is overall strengthening of them), glutes, and then back.
All and all I've got some work to do. I'm a little concerned that my composition is changing but the scale isn't budging much. Intead it went up this past week, although I'm obviously leaner. I still haven't had my BF% checked, but starting this week I will be getting it done with a fellow trainer. I just don't have too much time to go get dunked. I've lost an inch all around (EXCEPT MY BOOBS!!! YAY!). So I know that I'm leaning out, and I know that the scale is the worst indicator. I was a little bored today and decided to compare myself to the top two pros in the industry to see where I measure up. (Anybody else do this? 
)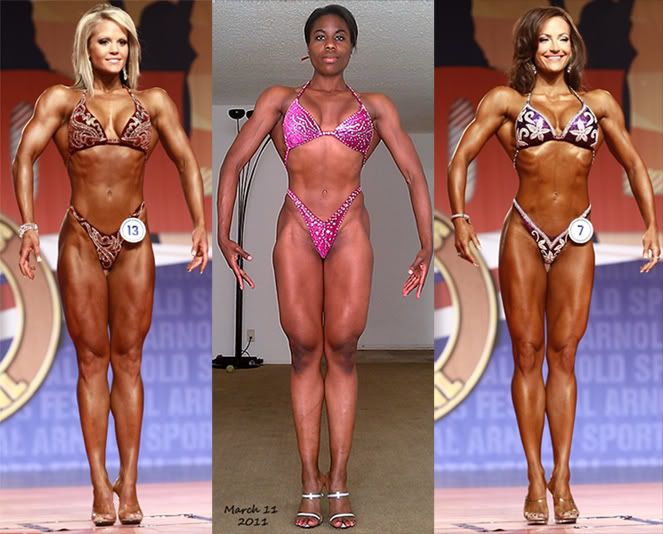 Now mind you, I'm not tanned, I have no glaze on to define my muscles, I did no pumping before the pic, HELLO – NO HAIR/MAKE-UP uuggh, different camera angles, the lighting isn't the same either, and I'm 11 weeks out from my next show, lol. But I can clearly see that I need to a.) keep leaning out, b.) watch my wrists in posing as I'm holding tension in the hands, c.) better pose my shoulders to offset my huge quads, d.) consider not flexing my quads, e.) possibly consider sizing down because I'm starting to look huge compared to the top pro's, and that's no bueno. Hopefully as the weeks continue to pass by we can fix all of the above.
I think I win the award for longest freakin posts on the board! Thanks for sticking with me.