What a difference a day makes…
Yesterday I took off completely. I had a refeed day as well. Here's the menu:
2 Krispy Kreme Donuts (One glazed and one chocolate cake glazed… lol 
 )
1 McDonald's Apple Pie
1 McDonald's Small Hamburger
1 McDonald's Med Fries
The other meals were my typical prep meals. But boy was that stuff good!
And my body thanked me for it. I woke up today BLOATING ALMOST GONE, I had great energy and had NO coffee today. My eating was nice and clean. I'm right now back up to 1672 cals, but that's just until Erik works out what I need. At my current weight x12 that's what I was left with, I worked out the macros so that I'm slightly higher in protein, carbs are low/moderate (about 165g), and fat is moderate.
I focused on lower body today. Plyos and then strength training after. My weights were mod/heavy failed out by 8-10r over about 3-4 sets. I supersetted some exercise and did a tri-set for others to keep me moving and cal burn up. I didn't do any cardio. After my workout which lasted about 1.5, I was SPENT. And sweating like a pig.
Here's a peek of my plyo portion:
And here is a photo of today and about 11 days ago.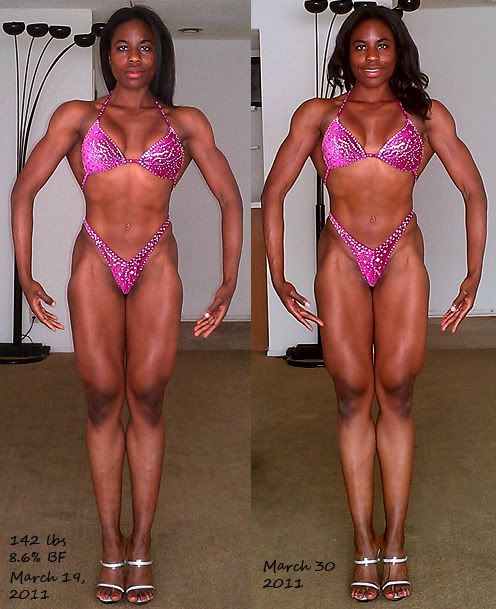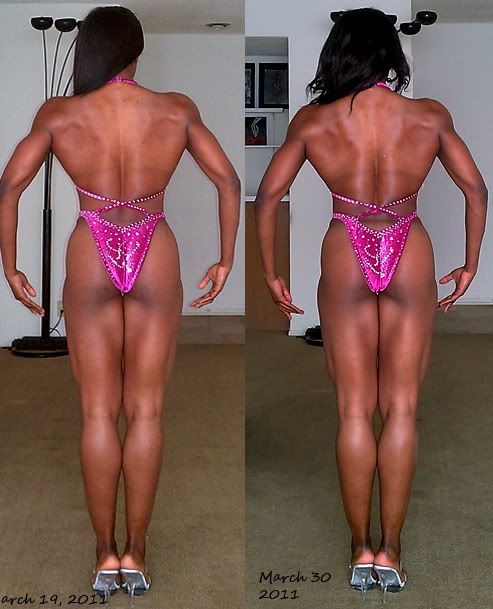 I think I see some slight improvement. Don't mind the tan lines on my back from being outside today lol.