Soooooooooo, we all know I'm STILL in the midst of this prep. And I've always got the same thing to say. It's on course and trekking along. So let's talk about something else.

Make-up!

Now, we're playing with some looks to see what the final one will be. This first look is for that "drama for you mama" spice of life. I haven't gone this dramatic with my eyes since performing in some wretched point shoes in The Nutcracker lol. Now normally, you hear everyone say, don't match your eyeshadow to your suit. Well, my friends, we have decided to go against the grain and just SEE how it looks. We felt like getting really Tyra Banks "SMIZE" (aka smile with you eyes) and play up a really dramatic eye with a warm lip (we may go more nude lip with this one but added the subtle color so it can pop for stage). Now in the closed eye shot, you will see some YELLOW on the inner lid, and 2 shades of blue as you go to the outer. But the yellow is very subtle. On the brow, a light brown as highlight. Creme liner on bottom and top. And of course lashes.

(never mind my hair is a hot mess – worked out earlier gotta wash it. Imagine me with Farrah Fawcett hair.)

Here's what we used:
MAC Eyeshadows:
Goldenrod
Electric Eel (middle)
Fresh Water (end)
Black (very light on the very outer lid)
Soft Brown Matte (brow bone)

Loreal HIP Creme Liner (black)

Crazy Lashes that I had in my case

Bella Pierre Cosmetics Bronze Pigment mixed with Loreal Colourjuice Sheer Lip Gloss in Candy Apple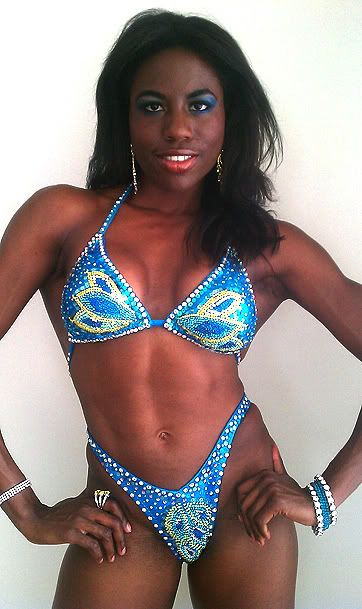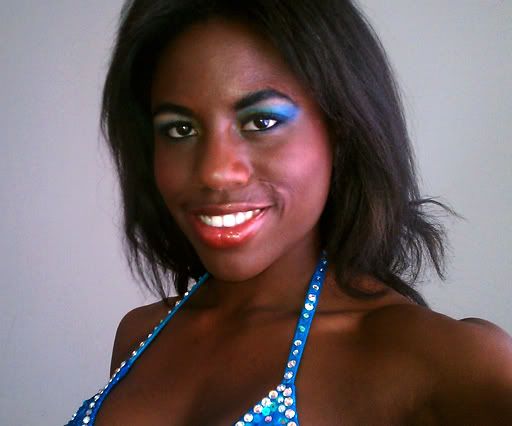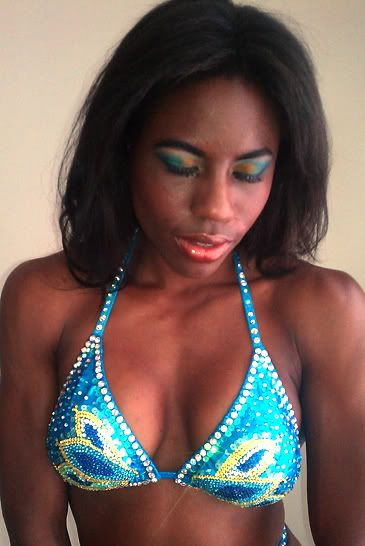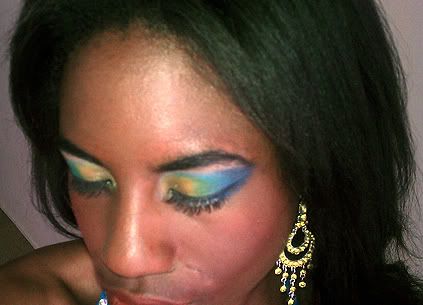 More looks to come, gotta wash this stuff off my face. This is the really dramatic eye, we're going to try something more smoked (aka SUBTLE) with browns/golds/black next. Just your basic brown smokey. Maybe tomorrow I'll post more AND I'll also post the wonderful BREAD that I can eat that works perfectly in my macros. Who doesn't love bread?