ONE DAY OUT!!!!!

(Warning: 4am, NO make-up, Do-rag on my head, hair wrapped up, yeah…. I warned ya.)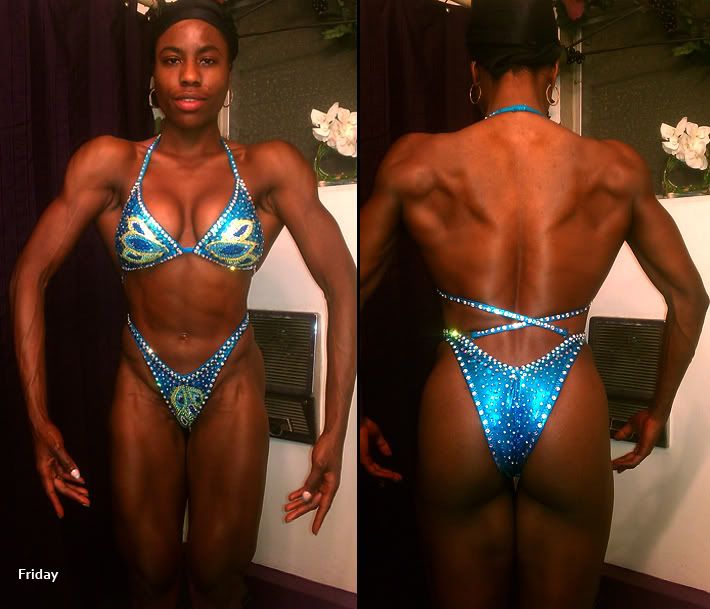 Had to take these in my smaller bathroom because the lighting was better and I left my tripod in the car so the rest of my body is cut off. But ANYWAYS. I feel GREAT.

Yesterday we carb loaded. I had so much potatoes and rice it was crazy. I was happier than a mug to have them too. 2-2.5 gallons a day with the water still (sometimes I fall asleep and don't get the last 1/2 gallon in). I had my final workout yesterday, mostly heavy weights 6-12 reps, only 2-3 sets of stuff. Felt good. 

I have now applied 2 coats of protan, so I'm nice and chocolate and smooth complect'ed (yes I did say that, lol). Tonight will go my final coat with LSR to seal it all in, and I feel like I'll be on and poppin.

My mother is flying in in a few hours. I have done NO laundry and I need to vacuum. But nothing's a mess, I just don't have the focus right now for all of that, I'll have to do it later. Got her clean sheets and stuff so it's all good. lol

Other than that, really, nothin more to add. Just feeling ready!! Ok now time for my oats and eggs and mmmmm Butterscotch Toffee coffee.

I also bought this wine to have tomorrow after the show when I get home. It's called Red Velvet Cake by a company called Cupcake. Has hints of chocolate, nuts, and other things they put in red velvet cake. Mmmm…. Wine!!!