3 weeks out. Feeling good. After some long thought, I've decided to go on my own again with my diet. So I'm going to be swinging into my next two shows K-solo. And I'm feeling great about it. I know exactly what I have to do for my body, and I know where I need to be. I feel like I had more concentration in what I have to do, and enjoyment in it when I had control over my own program and diet. Since focusing solely on competiting and not on track, the dilemma of the energy problems I was having for my runs are no longer there. I realize that I can't train for an elite level performance goal and an elite level aesthetic goal at the same time. And that was the main issue I wanted to figure out when I hired a coach. But seeing as doing both wasn't an option, I've switched to the thing that I like the most and it was back to easy sailing. I think I was hoping the experience to be more eye opening that it was. I think for someone who has no idea what in the hell they're doing, it is and will be. But for me, it wasn't any different than what I had been doing or could do on my own, so it was time to put that money toward other things (like my upcoming trip to Miami, a hot pair of Christian Louboutin shoes — birthday is coming up!!! –, yet another gym membership this time at an Equinox gym that bought out the Sports Club LA – where I used to work when I was employed as a trainer they have a great jacuzzi, sauna, steam room, and hot guys lol 
 I'm single I can look. 
) yeah anyways. So, yeah it was just the right thing for ME.I made some great changes to my eating. One of the things I wanted to try was switching up my M1 to see how my energy levels would be effected. Charles Poliquin is really big on this meat and nut breakfast. Basically protein and fat. The principle being that it has a better effect on blood glucose levels, in lay men's terms it sets off a chain reaction of a release of hormones that may also help increase mental clarity, the digestion of the protein will have a more steady effect on the raise in blood glucose levels, and the fats (healthy fats) help to slow down gastric emptying and increase overall satiety. I like to throw my fish oil in here as well, so I'll take my 3 pills here. M2 is a basic protein/carb followed before my workout (about an hour or so), then post workout is my normal protein/high carb/low fat combo. What I've been finding is that I MUCH more full during the day. Hunger isn't too much of an issue even on reduced calories. My energy levels are super high, I don't even really NEED coffee. I'll have a small cup occasionally. I center my carbs around my workouts, so even though I'm kicking my own ass like never before, I can still get through it and I feel really strong and up for the challenge. Even my runs are great still. I follow a slightly different plan on my non-workout days whereas it's a bit lower in carbs, relying mostly on protein (eggs, fish, beef, chicken), and green veggies and potatoes (M2) for my carb sources, and fats. So this new change has been good. I'm excited to see how much further my body will develop over the next 3 weeks.
My program has stepped up for the next 3 weeks as well. I had given myself a little mini rest of backing off a little in the gym. I think I needed just a little mental break because I was starting to get bored and just needed to reset. But now I'm back in full swing, back in business. So I've now kept the dance classes (2-3 days for 90 mins), keeping the running (1-2 days for 30-40 mins outdoors in the hills), and that's all I'm doing that I would consider cardio. I took out the intervals PWO because honestly with the above, I don't need it. My training is pretty high intensity. My focus during my cardio and circuit or metabolic training with the weights is to maintain my HR btw 125-175 BPM. I allow myself to get to around 175 when in motion for the circuits, then as soon as I recover back to 125 BPM (takes about 30-40 secs or so more or less) I start the next round immediately. I have a circuit that I've been working on that has been building and evolving as my body adapts. It's killer! For my cardio, I maintain my HR btw 155-175 BPM. So I'm working my butt off, which is why it's so flat right now (well flat for a black girl who normally has BOOTY).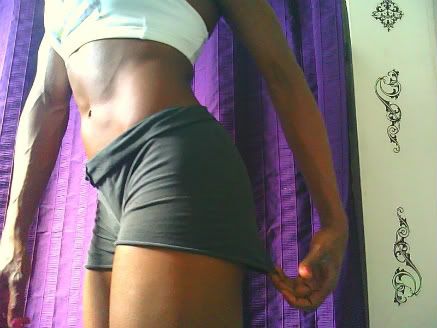 My beloved booty shorts that no longer fit…. 
Yeah but overall I feel good. Although right now, I'm going to take a NAP! Had a late night and already hit up the gym and whipped my tail with a set of dumbbells, a barbell, and my own bodyweight against the force of gravity!