Ok ok, y'all I'm really bad at keeping secrets, so screw it. I had to really share this. Look at the difference between 1 week out Team U, and 1 week out TOC…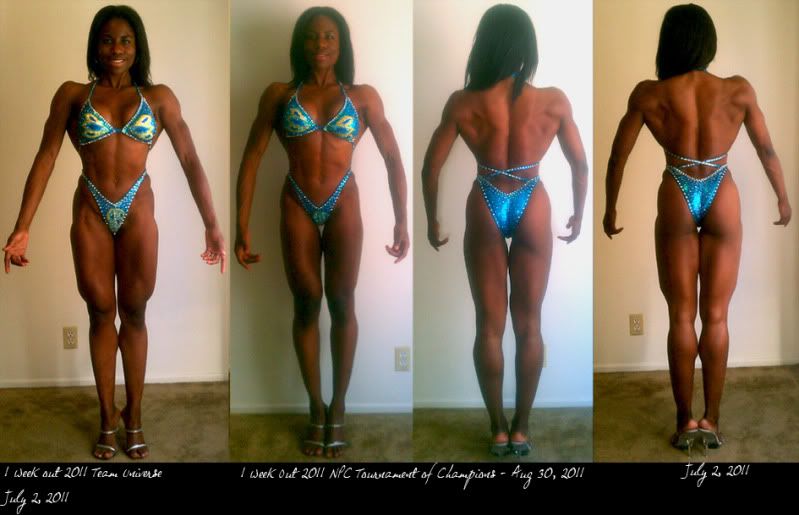 One week out from Team U I think I was about 135/136 lbs. Today I'm 130.2. That's without the water drop.
I think I finally am on the right track.
Pre-peak is going wonderfully, yesterday was my 32nd Bday. 
 I had a special steak dinner that I made. It was sooo good. Broiled beef w/ fresh tarragon, basil, smoked sea salt, flower pepper (from Trader Joe's, it has roses, lavendar, and other flowers w/ peppercorns), and grilled orange bell peppers, onions, mushrooms, and more tarragon and basil. SOOOOOOO yummy. I also had some more red wine lol. But didn't go overboard. A glass, ok I'm lying it was 2 glasses lol… Still woke up super hard. But hey alcohol prevents the uptake of glycogen in the liver lol, so that's my excuse. And it also disrupts glycogen uptake in the skeletal muscle… So technically I'm still depleted. Buuuuuut, just in case, I'm going to do a workout today, not to kill it, but to make sure I'm totally dried out before my Thurs refeed. Just a light one, if I feel like I'm going to die, I'll stop. I have a SUPER low carb day today. I nixed the M2 sweet potato to day to keep things on track because of the alcohol. Replacing it with a fat instead. I was 100% on track with all else today. My workout, although fairly easy in design, very traditional straight sets, strength moves, light weight, high rep — IT KILLED ME! Yay for depletion!
I kinda feel hung over, alcohol feels so icky when you're prepping. 
Teresa Anthony AND Nicole Wilkins doing TOC! SWOOOOON! Love them! I'm SO excited!