So moment of truth day for me! Progress photo time. I always dread this moment, lol, but I told myself every two to three weeks I'd do a new one to see what's going on. Really I should be sticking to every 2 weeks, so that's the plan for right now.

Off season is doing good. I think I look bigger in pics (ie. fat lol) than I do in person. Let me stop making excuses… Here's the dang pic.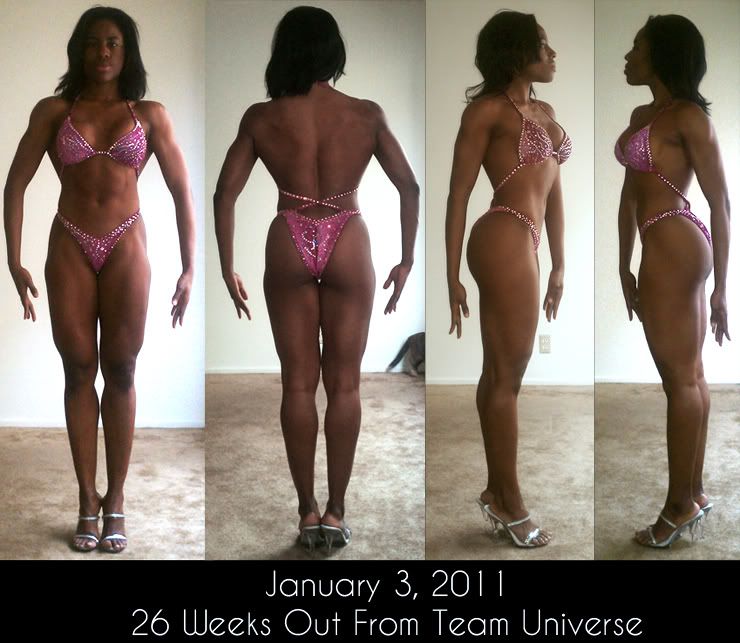 Stats:
5'6.5
Weight: 141 lbs
Bust: 37.5 Inches (fullest part)
Waist: 27
Hips: 37 inches (fullest part of hips)


I feel like I've made some good improvements. My back has definitely been coming along. But most exciting for me has been my shoulders! They're FINALLY starting to look even. My left has always been more developped than my right. So I've been taking the time to focus on bringing that up more. So the next order to really make it symmetrical is to bring up the lateral head of my tricep because the one on the left pops out and the right one fizzles out lol. It's slight, but why not focus my obsessive compulsive craziness on something positive right? Right! lol 


Overall I'm happy with my shape. I think last season I felt like my lower body overpowered my upper a bit, as I'm naturally pretty dense in my legs. But now I feel like I'm more balanced and proportioned. Maybe my boobs help with that too. Just for the overall shape. 

So now, I'm going to just pretty much maintain what I have. I'm not looking to get any bigger. The only area I'll continue to grow are the shoulders and tri's as I mentioned. And really a lot of asymmetrical work when lifting to illicit the change I want. My back I feel is nice and dence, and my V taper has come along nicely. So I will focus on holding onto that. Can I say that my butt, at that glute/ham tie in is hard as ROCK! I cannot wait to see what that looks like when I shed the fat off of it!


So today it's back to the gym. I'm going to rock out some power plate work this afternoon for my upper body, but on schedule is back/shoulder power/hypertrophy mix today. And I'm ready to rock it the f#ck out in the gym!!!