It has been a really crazy couple of weeks.  It's been the busiest I think I've been in a very long time.  I mean, I thought I knew BUSY before, but this summer has proven me wrong.  The amazing thing is that it's all been good things.  Things that I am proud of, things that have helped me to grow and challenge myself further…
After my class win at the NPC California State show, I had a number of emotions running through me.  It was a great accomplishment at that point because it was my first class win, and the competition was SO incredibly steep.  I felt ready to head to NYC and lay it down at the NPC Team Universe Championships.  I arrived in NY with a sense of confidence.  But there was also an incredibly anxiety not really knowing what to expect.  National level shows are SO different than local level/regional/state shows.  Here, you amoung the best of the best from around the country.  Class winners, seasoned National level competitors, those on the verge of turning pro, etc.  It's wild.  Not to mention the amount of media coverage of all the shows, some of the top names in the sport sitting in the audience, or even backstage.  The energy in the air is absolutely magnetic.
I finished this show not placing as well as I would have liked.  Basically for the current look of figure, I was carrying too much muscle.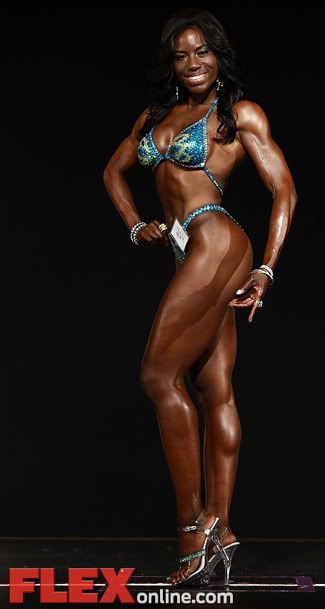 And I believe my posing was also a huge factor as well. I had made some adjustments that really accentuated my muscularity, so it didn't help me much. The thing with a body type such as mine is that I really just need to STAND THERE. Seriously, no flexing, no nothing. Hit the pose, breathe easily, relax, and that's it.  So It was back to the drawing board afterwards.
I had taken a few days off to enjoy being home, being with family, seeing the city again.  I quickly learned that I have become SUCH a California girl.  NY was just too hot, too humid, dirty, and there's too many people lol.  Plus I didn't have my car, well actually I rented a car, but driving in NY is a TOTAL death trap.  It's absolutely wild.  And then parking is nuts.  I only had the car to be able to go back and forth to the venue from my mother's house in Jersey.  But despite my reverse culture shock, lol, it was great to be back.  Of course I'm going home again during another extreme season… WINTER.  It's been 3 years since I've seen a cold winter.  That's the duration that I've been in Los Angeles up to the time of this post.  And it's ALWAYS sunny and warm on Christmas Day.  Freakiest thing ever, and so not normal to me.  But I decided that from now on, every holiday season I will be home.  Mind you, I don't even OWN winter clothes anymore…  Great excuse to go shopping!  This girl LOVES clothes.
But I digress.
So like I said, after Team Universe, I knew I had to make some changes if I was going to continue to compete in figure and accomplish my goal of turning pro.  I immediately began scaling back my workouts just a bit, and began to incorperate dance back into my equation.  For me, dancing allows me to get in some really great cardio, have a little mental and emotional release through movement, and overall as an activity, it keeps me small and tight.  I also began running again.  Long runs.  About 2 miles or more.  The distance running helps me to catabolize some of this muscle, and it also is a REAL challenge for me to actually do because sometimes I really hate to run, it hurts, and it's hard as hell.  I'm a speed kinda girl.  I like it fast.  But right now slow and steady is going to win the race.  Well not too slow, I try to challenge my pace with each run, but the distance is what's really  helping me to tighten up.  In the weight room, I've been doing more high reps and ultra high reps.  I've been having fun creating full body workouts that have me performing 300-1000 reps by the end.  It's absolutely grueling, but oh so fun.  I don't do it everyday, just a few workouts a week.  Then I also mix in a low volume day of heavy weights/low reps; and one power day of explosive movements and Oly lifts.
So far, it's been a wise move.  I've gotten smaller, but I'm keeping my shape pretty well.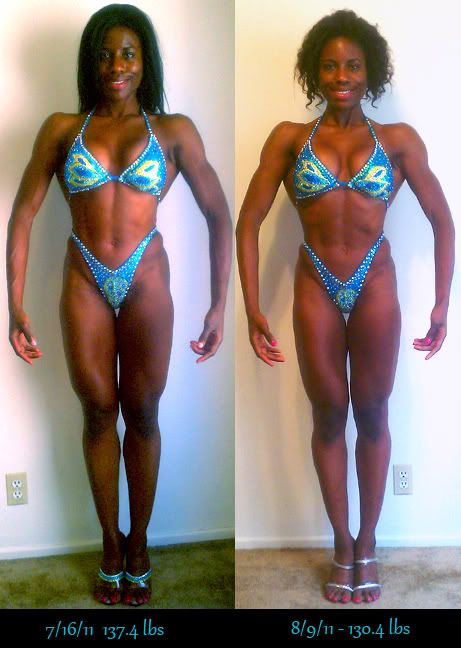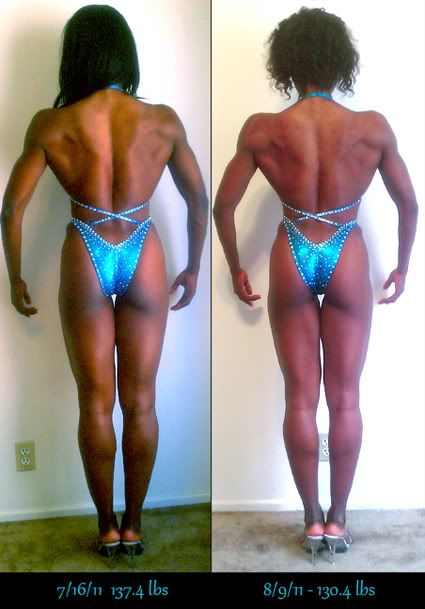 I'm excited about these new changes because it has been a challenge to achieve.  And I think anything worth having should challenge you and you should really work for it.  So trust me, I'm working, and I'm confident that once I really drop into the absolute peak for my body, I will be rewarded well.