So ok! Guess what, my peak was a success. I woke up today 128.8 lbs!! That is EXACTLY what I hit the stage with at The Eastern USAs, that's exactly where I was for Tournament of Champions. This was when my posing sucked, and my suit was a bad cut for me. By golly ms molly, I think NOW though I've got the package put together. And the body is following.

So here are the results of what I looked like today – not too hard not too soft, just spot on I think at least. And when I emailed them to a bodybuilder/strength conditioning coach friend of mine, he thinks I'm spot on as well.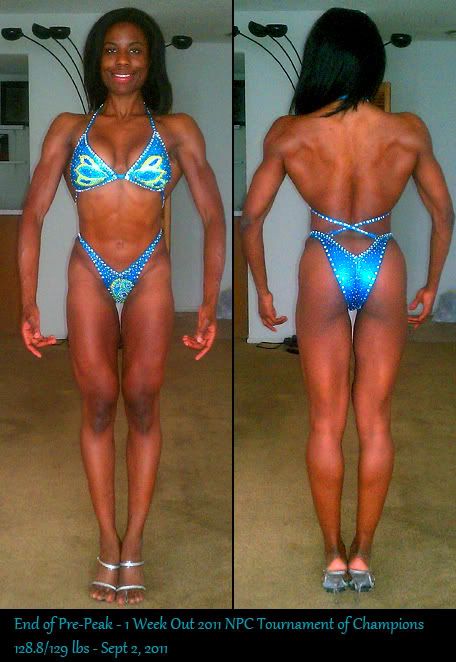 But here's the thing. I wanted to test something out. So I went through this day with my plan as though it were show day. I ended up eating a burger and fries just to see how my body would react between pre-judging and finals if I introduced real food. The thing is that here we get out at MIDNIGHT. Figure is always last, and this is LA so all the restaurants are closed by like 10/11p. I always eat clean btw the day and night shows, never indulge, then I'm DYING by the end of the night. So a steak and potatoes was on my mind in any case btw shows this time around. But the burger/fries thing was on the brain because I know it's a fan favorite for many reasons for competitors and I hate those who eat it and brag about it. So I did my research as to why it works well, and what happens with the body when you are ingesting the high amount of fat, protein, sodium, and carbs. I ended up at fat burger with a medium sized burger (about 5 oz), lettuce, tomatoes, pickles, onion, no mayo or cheese. And a small fries (same size as a McDonald's small fries). So it wasn't a gang of food. I kept my water up, no soda or anything, just the meal. Well my experiment proved well because I never blew up, spilled, or anything. In fact I'm sitting here now, about 9pm and I'm FULL AND VASCULAR and have been that way for hours. I would take a pic but I'm too lazy right now and it's dark. I'd likely be hitting the stage about this time so this is a good thing.


 

Sooooooooo, tomorrow I'm off to Bliss for a wax. I've never been bikini waxed before, and I'm scared to death. Well not really, but I hate pain (when inflicted at the wrong moments… 
 lol). But they said they use a wax that makes the process less painful… Ooook we'll see…

I went to the spa the other day. This korean spot called Olympic Spa that Tyra always raves about, and that's a hidden jewel for spa lovers everywhere around LA. You walk in, they have this amazing jade tile heated floor that you can relax on (and it feels SOO good). They have saunas and steam rooms. They have 4 pools, one a chinese herbal tea jacuzzi that you sit in that has healing powers, one a regular jacuzzi, and one a cool pool to close your pores after your spa treatments. There are a bunch of little old Asian ladies walking around giving the services. And anyone who knows massage knows that these women give THE BEST IN THE WORLD. This woman gave me the massage of life!!! Starts with oil massage, then they put honey all over you, both front and back with the massage – full body, then they wash your hair with this special herbal stuff, then they give you a facial and put cucumbers ALL OVER YOUR FACE and a steamed towel. Then they wash your entire body off in warm milk including your face. Know how much I paid for that…. $40!!! It was a 35 min massage but it was the best in the world, and I HATE massages. To use just the pools it's $15 so you now know my favorite hangout spot. I will be there WEEKLY!

The funny thing is that it's women only and everyone pretty much is naked. I think my physique shocked some of the women there lol.