This morning was a little harder day to start than the last few days.  I was just a little tired, wanted to sleep in.  I normally have my first appointment of the day at 11am on Tuesdays.  So I'd wake up around 7 or 8am, go for a quick 25-30 min run, shower, eat, drink my coffee, laze around on the internet, whatever before heading out.  But this morning I had a schedule change with a 9am appointment so I had to get up.  I was up a little late too last night finishing off client programs, so when the alarm rang… I hit the snooze button.  The intention was to get up and run, then head to the gym for my 3 appointments for the day, have my meals in there, and train myself and call it a day.  BUT, that didn't happen as planned.  Luckily my 9am got pushed up.  I ate my first meal before cardio (not as planned for today), but hit the gym about an hour and a half later for my cardio instead.  I was on track to do 45 mins (MY LAST CARDIO SESSION FOR THE ENTIRE WEEK!! WAAAHOOO) but due to time, I got in a great 25 minute pump, then ate M2, trained 2 clients, ate M3, trained the final client, then my workout.
I wanted to mix it up today and just get a total body pump due to the fact that I didn't finish my planned cardio.  So my workout was a really nice mix of power and endurance.  I worked out at this athletic facility here in LA that I really love.  They have Olympic Bars galore, platforms, racks, a track, an indoor field, it's AWESOME.  Everything Rox loves to play with.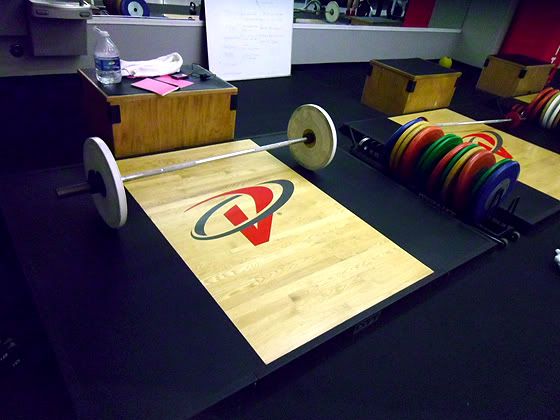 Today's workout consisted of the following – 15r x 3s each, no rest btw exercises, rest of 60-90s btw circuits.
Speed Hang Cleans
Bent Over O-Bar Back Row (supinated grip)
DB Squat to OH Press
DB Incline Chest Press
DB Lateral Raise
Angled Leg Press Machine (Hammer Strength)
1 Minute Treadmill Sprint (7.0 or above)
I must admit though today was pretty tough.  And I know and expected that.  Which is why it's even more important for me to LISTEN to my body.  I come from the philosophy to COME IN ready, before the show, before the final week.  Hell I'm stage ready by 4 weeks out, with only minor changes that need to be done to bring the final look.  It takes the pressure off and leads to a more progressive, safer approach to my prep.  So the fact that my peak week only consists of 2 days of 45 mins of cardio is a relief.  And I only have one more workout to go which will be Thursday, and that's just weights.  These depletion workouts are no joke, and tie that in with a diet that is accomplishing the same goal…  You'd be surprised how 5 lb weight could whoop yo' azz.  I have one more day of carb depletion, and this will be my lowest day…  Wednesday.  Thankfully, I only have one appointment in the gym training, AND IT'S A FULL REST FROM TRAINING FOR ME!  So after I update my online clients' programs, I plan to hit up the spa to relax in the jacuzzi, herbal pool soak, sauna, and steam room!  I might even book a massage.
This road is a tough one, one that requires discipline.  I am damn hungry today.  But bringing my best body is most important right now.  Thankfully I'm only going to an extreme for one more day, priming my body for the huge refeed I have planned on Thursday to fill me out.  As a little reward for myself I've planned on making some pancakes in the morning!  I have a cool griddle, non-stick spray, the mix I need (add water and egg whites), so it will be pretty healthy.  I'm looking forward to that carb up.  On the menu will be pasta, rice, potatoes, and a whole wheat tortilla.  I'm keeping it clean just to be sure that my body processes everything without problems.  I'm looking forward to filling my muscles out after this week of prepping.  So far, things are coming along well!
I feel like I'm walking around with a 24/7 pump!  Particularly in my upper body.  Yahoo!  Notice my obsession with the color PINK!  I simply love it.