Man it's rainy today in LA. First rainfall of the season. It's been about 4-5 months since it's rained. I hate the first rainfall. People drive like dumbasses. I'll be staying OFF the freeways today. I'm just mad because I parked my car in the garage and didn't have it out so it didn't get "washed." lol But since it's raining hard, I'm sure that will be taken care of in a bit. lol

I woke up today feeling amazing. I feel literally tight. Not as in flexibility. But my skin feels tight, muscles full. Like trying to pinch my skin is difficult because that baby is pulled taught. Some days I feel like it's just a countdown. Like I'm not anxious about the show, I'm just like, ok is it here yet? 45 more days to go? Ok, shoot 
. 

Had my meal one. 2 egg whites + 1 whole egg, 2 slices of cinnamon raisin Ezekiel bread (in place of oats today, I have a food converter that I can use to swap stuff out, I love my EZ bread), and coffee. I totally fit my coffee macros INTO MY PLAN DAILY 
. Because my coffee needs to be with almond milk or half and half. As of late it's been almond milk just because I get more volume and more nutrients than h/h. I found this AMAZING coffee! Godiva Caramel Pecan Bark and Godiva Pumpkin Spice!! Uuuugh, 
 I'm such an addict. One of my online clients and I have this who's got the better coffee contest lol. We randomly text each other when we're drinking something heavenly. Today I'm gonna get the Godiva Chocolate Truffle coffee and I think for this round, I'll trump her! She got me on the blueberry creme coffee which I LOVE! I shall exact my revenge.

Today is a slow day for me. I only have one client this afternoon in the gym. Typically I train about 2-4 physical hours per day. Working 4 hours a day is a lot, lol. My life is so random. The rest of my time is spent doing online programs and updates, I have a group of women I train 2x a week as a group session which is cool, and then I'm out doing things related to my media/commercial aspect of my career. Which I actually have some news to share on that front. First off I dropped my agent. 
 So I went into the office about 2 weeks ago after the Planet Fitness casting. I told them I was really kind of annoyed with the idea of being sent out for things in which I'm clearly not the type for. You see when agents send you out, they expect a call back or booking. That only happens if you actually fit the TYPE that casting wants anyways. So for this casting, they wanted a FBB. Not a figure girl, not a bikini girl, like a real FBB. Like an Iris Kyle. And the wording they had in the breakdown was so offensive I won't even repeat it. Go back in my posts to read and see for yourself. In any case, my agent basically said that they knew I wasn't the type but sent me in anyway, casting saw that I'm in fitness and what not so they called me in, blah blah blah. So ok fine. But what he said next made me realize that I HAD TO GO.

In the past, he repped Madonna Grimes because they were friends and had known each other for years. Madonna does a lot of choreography and stuff now, but she was a major name in the fitness competition world back in the 90s etc. He said that he got Madonna work all the time because somehow she knew how to keep herself "feminine looking" even though she was a "bodybuilder." And he said that I look masculine and that when he looks at competitions all the women look masculine. Including all the figure girls… 
 So now I look like a DUDE?! I mean I was dumbfounded! I stood up, in my form fitting dress, boobs that were propped up with my Victoria Secret push up, hair wavy and flowing, skin fresh and sun kissed and said, "do I in ANY WAY look like a man or 'masculine' as you put it?" He said well I'm really muscular and that's not feminine. Plus he admitted that I need to be with a specialty agent because he doesn't get casting for anything really sports or fitness related. So WHY couldn't he just say that before? Shit, wasting my time. I already KNEW that last line he said, but to put me down because of your own insecurities, no bueno. I shot him an email after that meeting saying that I'm dropping him and moving on. Thanks for your time.

So on that note. It kind of feels good being freelance again. However I'm going to take time looking for new representation. I'm actually switching gears in any case because I know that my look being that I am so athletic will be a lot harder to sell from the commercial standpoint. When you think of commercial work, you've got to keep middle america in mind. You have to BLEND IN and not stand out when it comes to casting. You have to look like the everyday person – well more attractive versions of everyday people – so to have any attributes that don't flow well with that puts you outside of the box. So for me, I'm really shifting more into doing hosting and "personality" type of work so I can be booked for things being myself as I am. I've also decided that when it comes to commercial work, I'm going with a sports agent. Or an agency with that kind of division. That way I can go out for things like Nike, Reebok, Gatorade, Under Armour and other companies that look for sports specific types or active really truly fit types. And so to do that, I need to revamp my "book" – portfolio. So I'm scrapping everything, except the fitness shots I took last year. I've decided that I'm going to do 1-2 photo shoots a month from now on. That's VERY important actually. And I've been majorly slacking in that department. So I have a shoot arranged for next week with Colten Audivare.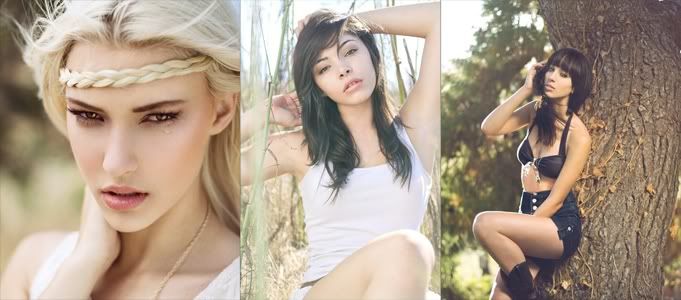 I LOVE his work! So we're going to head out to Laguna Beach and get some swimsuit stuff and a few candid/commercial shots. I think I'm gonna do the curly hair for this one! Changing it up a bit. The looks will be very soft and natural. Much like the work you see above. The one thing with working commercially for me is that when I shoot I have to do things that don't over accentuate my musculature. When I do fitness stuff I can have a mix, a few super in shape/in season, a few that are a little softer more off season, etc. In any case, I'm excited to get that going.

I have another one scheduled for the end of the month as well, but I'll talk about that as soon as it's finalized.

Oh and lastly, here is a recent apperance I did for this local LA talk show called Every Way Woman.