Wow damn, I'm still on cloud 9! Still hanging off the high of Nats, feeling so much more centered with a clear direction of what limits I'd like to crush for myself in 2012. Most of all it feels great to get back to normal again and NOT be in contest prep mode.

I'm really happy to get back to "work" work. Coaching my girls and getting them to their goals, whether it's to step on the stage or to just get their bodies to a place where it's never been. I'm just so happy to focus on them, my business, continuing to build my brand, and just picking up on projects that have been put aside as I obsessed about my own body.

Thanksgiving was great. Spent time with my best friend and some mutual friends of ours in the dance world. It was cool to be reconnected to that part of me because I hadn't been around these folks in a minute. Soooooo much food! Felt great to just eat and NOT count anything or measure etc. 

And you know I had my cheesecake! Cheesecake Factory Red Velvet Cheesecake: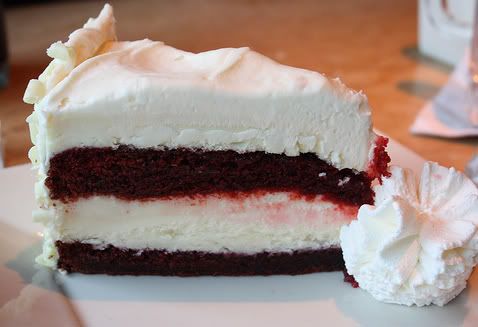 I hocked this pic from somewhere on the internet. My slice was TWO TIMES THE SIZE of this one! lol 


I'm going to have one more slice (banana creme cheesecake), and then I'm done with my indulgences.

Starting Sunday though, the off season diet plan begins!