Ok here are the other pics I took earlier. Still playing around with what looks best for me. Like for instance, should I do the thigh/ab with the front leg crossed, or the more traditional BB type pose with the other leg more open toward the audience. I saw a competitor do this style (like pictured) who was one of the recent girls that turned pro. She was a taller girl, with long limbs like mine, and I just like the way it framed her body more. So I'm playing with the same. 

Of course I'm a TOTAL CHUBSTER right now, lol, so hell if you can tell. Maybe I should slowly start stepping away from the wine glass… lol I actually don't look that huge in person, lol, at all. But anyways, let me just STFU cause I'm just driveling like a typical girl.

Please if you think I need to fix something, don't hesitate to say it! I totally am a newbie to this whole WPD posing thing. Anyways, I'll be meeting with a coach soon to get this right. 


Back Double Bi – see right arm higher, all kinds of f'ed up. Really gotta work on that. Right bicep not fully flexed, aaand obviously neither was my back doing much of anything on that side.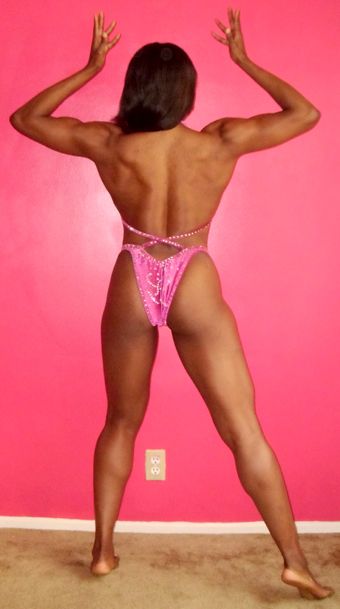 Side Chest Arms Extended – Playing with whether to bend the standing leg or not. Right now I did not.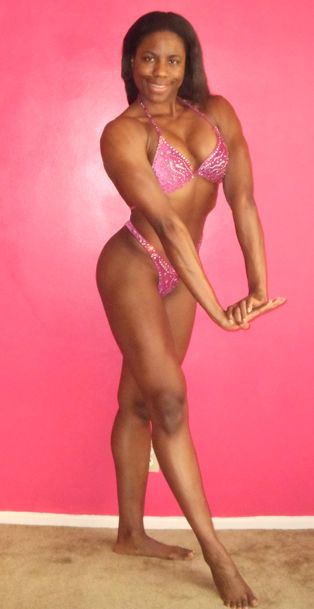 Side Tricep w/ Leg Extended 



Front Ab/Thigh – I like the closed position on me but I need to also take a shot with the leg in a more open position. I will also be watching closely what some of the pros do with this one cause I ain't got NO clue.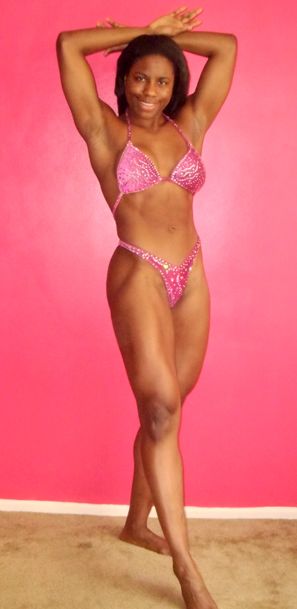 This whole WPD thing is SUCH an new adventure for me. I mean I absolutely LOVE the fact that it actually now feels like a show. I get stage time, not rushed on and off to do model turns. When I invite people to come, they can really come and see ME at a show and won't miss me if they blink. There's also so much MORE involved with prepping I can already see. With figure, you get in shape, you practice your quarter and models turns and you're ready to go. For this, you have to be sure everything is like 100% more so than in figure I feel because they're looking at your overall balance and symmetry even more, you've got to get the manadtories down because who cares if you look phenomenal if you can't show it your time is useless, you've got to have a routine, two if you're doing National shows (prejudging and finals – if you're so lucky). 

I don't know if I have what it takes to be anything worth even seeing on the stage in this division, but hell I'm going to try. I don't know, I feel somewhat free now. Free to train, free to eat to optimize my time in the gym. I feel like a REAL competitor now. It's hard to explain. All I know, is that I'm going to try my best and just have fun.

Boy would it really suck though if I don't fit into this division either! lol 
 Fuck I'd say fuck it I'm done!