I took this shot today. I think my back is my fav, just a little teaser.
(Ignore the crap in the background, I have family that's visiting so that's some random crap they bought)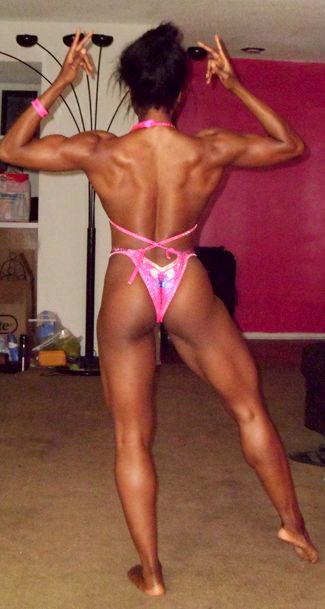 Things are going very well. I'm a perfectionist, so I'm not done tweaking yet. However here's what the current workout schedule is for the final two weeks before I peak (I don't really count that week as "prep").
Monday:
MetCon Circuit (@ 30 mins of workout) + Back (A Few Heavy Sets about 3-4 exercises)
Tuesday:
MetCon Circuit (@ 30 mins of Workout) + Cardio (20-30 mins max SS)
Wed:
Legs (High Volume/Plyos/The Works)
Thurs:
Off – 45 mins cardio (refeed primer to get that last bit of glycogen burned off)
Friday – High Carb Refeed Day:
Shoulders/Bi's/Tri's
Sat:
Total Body Circuit (short and not as intense as my MetCon) + Legs (high volume)
Sun:
Off
This is an easy schedule for me, I'm just basically focusing on tightening up a bit more and overall conditioning. Next week I'm going to drop cardio completely and that may be all I do for the rest of the season lol 
. Right now I feel like the work is done, so just tweaks are left and sailing in. I want to really just kill legs right now focus on keeping those bad boys nice and tight. Always room to improve, always room to grow. I'm already thinking about my off season and the things I need to make better. One step at a time I suppose. I will say this, I feel more confident and less worried about stepping on stage now after seeing the Governor's Cup. I feel like I may have found a division in which I belong.
I'll pop back in here starting around peak week. That's just about 2 weeks from now.